Archive for the 'good news' Category
A good use of plastic bottles, using water, bleach and sunlight  people are turning trash into a useful and necessary product – light!
This website gives more details.
Greenpeace was started 40 years ago this week in a living room in Vancouver, BC.
On their website it proudly boasts 40 years of  Inspiring Action, Making Change, Bearing Witness, Solutions, Victories! And this is what I think of when I hear the name as well.
Activists had a simple message in 1971 and it remains vital today; TAKE ACTION! The founders of Greenpeace were regular Canadians. What began as protests against nuclear weapons testing / transporting/ now covers climate change, toxic pollutants, protection of forests, oceans, agriculture, and even PEACE and disarmament.
I am proud to live in the same province where such ideals could evolve into an international movement called Greenpeace.
Water water everywhere, at least here in North America.
Care Canada walk in her shoes is a fund-raiser and awareness campaign. In the poorest communities around the world woman and girls are forced to walk an average of 6 kilometres a day just to get water and fuel for cooking. The women must then carry the water back home, eliminating time for education or other paid work. Six kilometres or 8000 steps is a lot! Wearing a pedometer, and taking part in this campaign I realise just how much that is!
To celebrate the 100th anniversary of International Women's Day, March 8th,  thousands of Canadians are joining in this challenge.
Here in Canada we have the luxury to challenge ourselves to walk a little extra, and to give our money and time to other women of the world. In solidarity we walk, so these woman may know that  a world away we acknowledge their plight.
I know I am blessed beyond measure, simple necessities like water, food, and personal safety are not a usual consideration for me, or most of the developed world's women and girls.
Care Canada has a mission statement that includes strengthening the power of self help. Fostering dignity, providing economic opportunity and influencing policy that encourage people to empower themselves.
The United Nations has declared "Access to safe water is a fundamental human need and therefore a basic human right." What happens now is up to each country and individual. By simple campaigns like this one we can start a dialogue that will educate and illuminate this issue. Given that we share this planet with billions of people, many of whom will never be afforded the opportunities we take for granted everyday, the time has come for us to stand together with women and lift them up to a basic level of human dignity.
Give this matter some attention, your money or time. Until every person has the same access to basic human rights we can not move forward. There are steps you can take to raise awareness and lead the way to a better world for every woman, child and man alive today.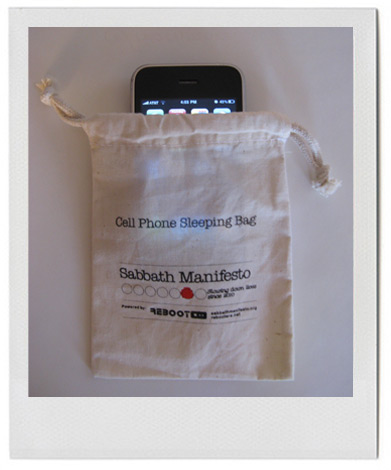 Sabbath Manifesto. Sounds intriguing doesn't it?
Once upon a time people weren't constantly plugged into electronics. There were no personal home computers, cell phones, ipads, tweeting, email or the thousands of other devices and gadgets that today seem like a necessity. In fact many people practised a day of rest, every week!  Before Sunday shopping became commonplace, back in the olden days known as the 1970′s.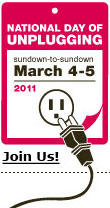 The National Day of Unplugging this year is from sundown Friday March 4th until sundown Saturday March 5th.
A full 24 hours of not using electronics! It has been done! Last year was it's inaugural year, and 2011 seems to be gaining steam.
The site Sabbath Manifesto gives a top ten list of what to do instead of plugging in. Some simple things like drink wine, eat bread, go outside, light candles, connect with loves ones, give back, and of course avoid technology. Along with some other virtuous things like find silence, nurture your health and avoid commerce.
What does unplugging have to do with the environment? Well everything really. When people are connected to nature, volunteer (give back) or practice better heath routines, de-stress and focus on simpler things the benefits will exponentially increase.
Earth Hour encourages people to unplug for one hour of the day. This challenge asks if you can unplug for a full day.  It  will no doubt have a huge effect, not only on our overall electricity use, but on our collective psyche.
Realise the simple necessities in life don't require batteries, connect to an electric outlet or cost us money. These are the priceless treasures to be enjoyed and cherished.
Who would have thought there would be a day that promotes buying something used!
Well there is and it is tomorrow.
From the  reyouzd website the reasons for buying used helps the planet in many ways;
IT'S SIMPLE!


Used goods require




NO

new agricultural or industrial practices




NO

new manufacturing processes,




NO

new packaging and




NO

transglobal transportation to marketplace.



The three R's of Recycling are REDUCE, REUSE and RECYCLE. The Recycle part is last on the list because it is always greener to reduce the amount we consume and the waste we produce. Reusing is environmentally sustainable and easy.
If you are thinking of making a purchase this weekend try and see if you can buy it second hand. Craigslist is one place I use all the time. Our family has bought numerous items off of CL and continue to use it as an excellent resource for finding many items for a great price!
Smart consumerism dictates that we make purchases with the environment in mind. Buying second hand will help keep valuable items out of the landfill and more money in your pocket. Everyone wins!
When I moved recently I wrote about Frogbox a local Vancouver company that provides reusable shipping containers that are dropped off and picked up in a timely manner. This helps create less waste and offers a green moving alternative. Before you get to the point of packing all of your belongings, there are a few things to consider when choosing a new neighbourhood.
Google maps has made it easy to check out the new place, and see how the neighbourhood compares to your current digs. I have a few other great resources to use as a guide for helping you to choose the greenest community to live in.
I used the walk score software to look up my current address (scored at 67/100)  The verdict on my new place is Somewhat Walkable. This will no doubt improve when the construction on the grocery store at the bottom of my street is finished this fall. We are extremity close to transit, a hospital, coffee shops, cafes and restaurants, some boutiques and a thrift shop. Also nearby are a number of parks, access to the  river and a bike route. Being a car free family, we have found this area great for walkability. This may depend how far you would walk for such things as the library, major grocery store and community centre. For us, a stop or two on the Skytrain or eight minutes on the bus are acceptable travel distances for these resources.
This program maps out your neighbourhood and rates it's walkability. It shows where the closest amenities are in kilometres, giving you an accurate picture of where you will be living and shopping.
Another thing to consider is the air and water quality of the place you are moving to.
Emitter.ca allows you to access statistics about what has been reported to the National Pollutant Release Inventory*. Emitter tells you the name, type of company and a sliding scale rating of the amount of pollution reported to be pumped into the air.  This resource has helped me to understand what these large factories I see in the distance are doing and how harmful the toxins they release may just be.
So if you are thinking of making a move in the near future, check out these sites. They may be a valuable new resource and a sense of pride for communities of the future!
This clever sticker was made by a UK company called Hu2 designs.
They offer "sustainable habit reminders" Stickers to place around your light switches.
This is a great idea for homes, schools and workplaces.
They are an online store
Hu2 was also nominated by Treehugger for the 2010 "Best of Green" award for Design and Architecture.
They are official members of the WWF UK and all their stickers are PVC free.
Along with the many great wall stickers are some other fun artistic touches you can add to your home
like this. . .
I just read a post on another blog about China's voluntary ban on plastic bags.
It has been one year since China made giving bags away for free illiegal.  Stores are forced to sell bags at whatever price the market will allow.
A report published in Science Daily suggests that China has already reduced it's plastic bag consumption by 50%!!
That is a reduction in the use of one time disposable plastic bags by half, without enforcement!  Still more can be done in the future to reduce the use of plastic bags.
China is leading the way, and showing what is possible.
Banning plastic bags raises awareness about the disastrous environmental impact plastic bags have on the environment.
This is proof that once motivated,  people will make better choices.
Many people are turning away from the petroleum based artificial trees that, just a generation ago, seemed like the most environmentally friendly option available.
If you are looking for an Eco Friendly option for a Christmas tree this year I recommend checking out this local company. Evergrow Christmas Tree Company.
Evergrow Christmas Tree Co was started by two UBC forestry grads, and specialise in delivering live trees to people who want a greener option for the holiday season.
I first learned about this option in May when I was volunteering at EPIC, the sustainable living expo held annually in downtown Vancouver.  I was in the "kids zone" as usual, making Christmas decorations with the kids!
Evergrow offers trees for homes, business and events. They even offer cut trees if you desire one bigger then 7 feet. The trees are grown locally and the cut one are collected and converted into biofuel. They will even lend you a tree stand and set it up if you wish. No more needles dropping, worrying about the tree dying up or  what to do with it after the 26th.
If you order online you can save 10%  So shop local, save a tree, and go really  green this Christmas!