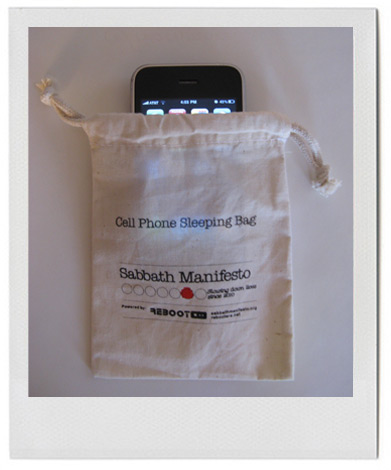 Sabbath Manifesto. Sounds intriguing doesn't it?
Once upon a time people weren't constantly plugged into electronics. There were no personal home computers, cell phones, ipads, tweeting, email or the thousands of other devices and gadgets that today seem like a necessity. In fact many people practised a day of rest, every week!  Before Sunday shopping became commonplace, back in the olden days known as the 1970′s.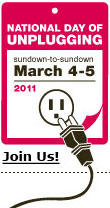 The National Day of Unplugging this year is from sundown Friday March 4th until sundown Saturday March 5th.
A full 24 hours of not using electronics! It has been done! Last year was it's inaugural year, and 2011 seems to be gaining steam.
The site Sabbath Manifesto gives a top ten list of what to do instead of plugging in. Some simple things like drink wine, eat bread, go outside, light candles, connect with loves ones, give back, and of course avoid technology. Along with some other virtuous things like find silence, nurture your health and avoid commerce.
What does unplugging have to do with the environment? Well everything really. When people are connected to nature, volunteer (give back) or practice better heath routines, de-stress and focus on simpler things the benefits will exponentially increase.
Earth Hour encourages people to unplug for one hour of the day. This challenge asks if you can unplug for a full day.  It  will no doubt have a huge effect, not only on our overall electricity use, but on our collective psyche.
Realise the simple necessities in life don't require batteries, connect to an electric outlet or cost us money. These are the priceless treasures to be enjoyed and cherished.