Posts Tagged 'Environment'
This is a great short video that shows many uses for old pallets. The Canadian Wood Pallet and Container Association links to this video, showing old pallets that have been made into many beautiful and useful items; including furniture, decking, and even homes.
Black Lake Asbestos Mine in Quebec,
This week is the fifth meeting of the Conference of the Parties to the Rotterdam Convention  (COP5 ) From June 20-24th
(Rotterdam Convention on the Prior Informed Consent Procedure for Certain Hazardous Chemicals and Pesticides in International Trade ) Essentially it is a multi-party treaty about trade in hazardous substances within the United Nations Environmental Program
Today Canadian Prime Minister Steven Harper refused to bend to pressure  to add chrysotile asbestos to an international trade list of toxic substances.
Asbestos is used  as insulation, as a binder in cement, and in anti-fire walls. Evidence that Asbestos is harmful is mounting and undeniable. As asbestos is being removed from homes, businesses, schools  and even the  Parliament Building in Ottawa, Canadian asbestos producers continue to promote and sell their fibre worldwide – especially to developing nations.
The danger is from small asbestos fibres inhaled by labourers. The fibres cause cancerous growths in the lungs, lung lining and abdomen but can take 20 years or more to manifest.
In 1997, Canada exported 430,000 tonnes of asbestos - more than 96% of production – most of it to the developing world.
Canada is the world's second-largest exporter of asbestos after Russia. 1
In Europe the evidence is overwhelmingly;  Ten EU members have banned asbestos.
With startling facts like  seven out  of Canada's top 10 markets are Third World Nations, the question of ethics needs to be raised.  In countries in Asia, Africa and Latin America workers are being exposed to deadly toxins, while in the developed world the alarm bells are sounding.
The Third World News shines more light on this issue.  The reasons seems clear;  a political stand off is at work. In Canada Quebec has the dubious distinction of operating the last asbestos mine.
The headline in the Montreal Gazette reads that Canada concedes the science is correct, yet still opposes limits on exports of this deadly fibre.
How far will the Canadian government go to protect some jobs? Why are the lives of these Canadians more valuable then that of the potential thousands  who will have the misfortune to work with this material?
Moving towards policy that protects people equally around the world needs to be a priority.
Responsibility, transparency, and calling on all countries to honour their commitments to fair and ethical practices is mandatory when it comes to workers rights around the world as well as at home.
Just What is Hydraulic Fracturing?
That's what I asked a colleague of mine recently when he told me about the documentary Gasland: A film by Josh Fox
"The largest domestic natural gas drilling boom in history has swept across the United States. The Halliburton-developed drilling technology of "fracking" or hydraulic fracturing has unlocked a "Saudia Arabia of natural gas" just beneath us. But is fracking safe? When film-maker Josh Fox is asked to lease his land for drilling, he embarks on a cross-country odyssey uncovering a trail of secrets, lies and contamination. A recently drilled nearby Pennsylvania town reports that residents are able to light their drinking water on fire. This is just one of the many absurd and astonishing revelations of a new country called GASLAND. Part verite travelogue, part expose, part mystery, part bluegrass banjo meltdown, part showdown."
The website is filled with information about this questionable practice that has reached epic proportions throughout the United States, and now Canada. With alarming statistic like over 80 000 pounds of chemicals are injected into the earth's crust to "Frack" each well, the majority of which are toxic VOCs that contaminate the water table and air in the process of extraction.
Much controversy has arisen from this movie, the powerful Gas lobby and industry has replied with a "truth" campaign designed to discredit the director and the undeniable facts that this process is harmful, and largely unregulated.
The reply from the film-maker also goes to great lengths to substantiate his claims. The magazine  The Environmental Leader Recounts the New York Times article questioning the safety of the water fracking industry.
For a Canadian perspective Fracking Canada informs of the dangers of the practice.  It also seeks to encourage a dialogue about a subject that is not well known, except to the people who live with the reality of the wells and waste water in their backyards.
This is an important topic to learn more about.  We need to question whose interest is being served in the process of this resource extraction.
Water water everywhere, at least here in North America.
Care Canada walk in her shoes is a fund-raiser and awareness campaign. In the poorest communities around the world woman and girls are forced to walk an average of 6 kilometres a day just to get water and fuel for cooking. The women must then carry the water back home, eliminating time for education or other paid work. Six kilometres or 8000 steps is a lot! Wearing a pedometer, and taking part in this campaign I realise just how much that is!
To celebrate the 100th anniversary of International Women's Day, March 8th,  thousands of Canadians are joining in this challenge.
Here in Canada we have the luxury to challenge ourselves to walk a little extra, and to give our money and time to other women of the world. In solidarity we walk, so these woman may know that  a world away we acknowledge their plight.
I know I am blessed beyond measure, simple necessities like water, food, and personal safety are not a usual consideration for me, or most of the developed world's women and girls.
Care Canada has a mission statement that includes strengthening the power of self help. Fostering dignity, providing economic opportunity and influencing policy that encourage people to empower themselves.
The United Nations has declared "Access to safe water is a fundamental human need and therefore a basic human right." What happens now is up to each country and individual. By simple campaigns like this one we can start a dialogue that will educate and illuminate this issue. Given that we share this planet with billions of people, many of whom will never be afforded the opportunities we take for granted everyday, the time has come for us to stand together with women and lift them up to a basic level of human dignity.
Give this matter some attention, your money or time. Until every person has the same access to basic human rights we can not move forward. There are steps you can take to raise awareness and lead the way to a better world for every woman, child and man alive today.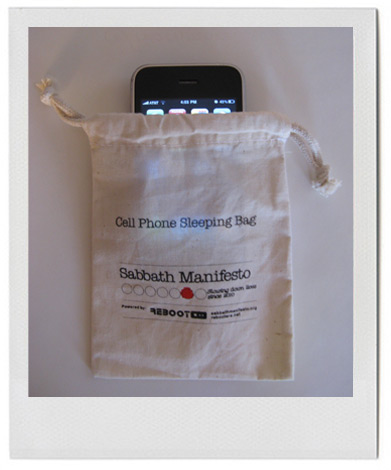 Sabbath Manifesto. Sounds intriguing doesn't it?
Once upon a time people weren't constantly plugged into electronics. There were no personal home computers, cell phones, ipads, tweeting, email or the thousands of other devices and gadgets that today seem like a necessity. In fact many people practised a day of rest, every week!  Before Sunday shopping became commonplace, back in the olden days known as the 1970′s.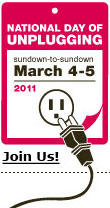 The National Day of Unplugging this year is from sundown Friday March 4th until sundown Saturday March 5th.
A full 24 hours of not using electronics! It has been done! Last year was it's inaugural year, and 2011 seems to be gaining steam.
The site Sabbath Manifesto gives a top ten list of what to do instead of plugging in. Some simple things like drink wine, eat bread, go outside, light candles, connect with loves ones, give back, and of course avoid technology. Along with some other virtuous things like find silence, nurture your health and avoid commerce.
What does unplugging have to do with the environment? Well everything really. When people are connected to nature, volunteer (give back) or practice better heath routines, de-stress and focus on simpler things the benefits will exponentially increase.
Earth Hour encourages people to unplug for one hour of the day. This challenge asks if you can unplug for a full day.  It  will no doubt have a huge effect, not only on our overall electricity use, but on our collective psyche.
Realise the simple necessities in life don't require batteries, connect to an electric outlet or cost us money. These are the priceless treasures to be enjoyed and cherished.
Late night I attended a local screening of a film called "The Clean Bin Project – documentary"  The movie follows a Vancouver couple over the coarse of one year, in a competition to buy nothing, and create no waste – or as little as possible.
Their story was funny, relevant and poignant. Topics like the Pacific Garbage Patch, and ethical recycling were touched on. The couple made a point of saying their intention was not to be preachy, but to show what their experience was.
The part of the movie that really struck me was that involving Midway Atoll, a remote  island nation in the centre of the pacific ocean. The movie relates the story of the albatrosses of this island. Sea birds that are consuming plastic instead of food and dying in unprecedented numbers.

This photo is alarming ,  disturbing and vital.
It is hard to look at, and not question where our own responsibility lies in this problem.
The participants in this challenge are not exceptional environmentalists. There are compassionate, conscious individuals who try and show what is possible. They readily admit that they have not continued to have a zero waste goal,  they have an intention to change small things and make a difference one step at a time.
The term Zero Waste can illicit contempt by some people. People argue that ZERO is not possible and at best we can only aim for a garbage diversion rate of 70%.  Metro Vancouver singed on to the ZERO WASTE CHALLENGE as a part of their plan to become The greenest city in the world by 2020. The question is why not aim for a Zero Waste? If that starts a dialogue then the value is proven.

Personally participating in a local Zero Waste Challenge the results were encouraging.  By the end of our four month experiment my family and neighbours were able to reduce our garbage by 50% We also doubled the amount of waste diverted through increased composting. We did not reach zero waste, in fact, our success was to increase our awareness of what we were throwing away, what we were buying, and what we could change.
The average person will probably look at this picture as I did, and feel that what we are doing is not enough.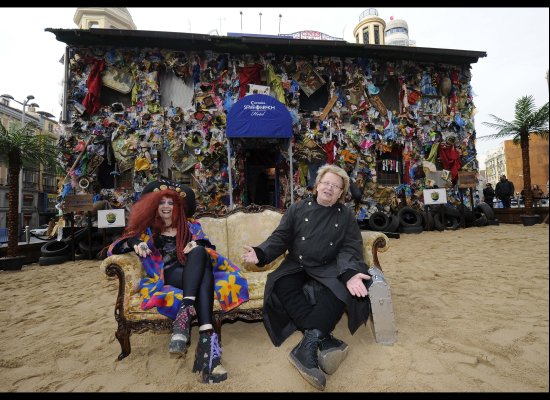 While reading the news this week, I came across an article on Madrid's Beach Garbage Hotel
The hotel is made of garbage found on beaches around the world. It was created by artist Ha Schult, in an attempt to raise awareness about the state of the Oceans, the garbage that is dumped into the Oceans of the World and garbage that washes ashore on every beach across the planet.
Schult speaks about it " "I created the Beach Garbage Hotel because the oceans of our planet are the biggest garbage dump,"
Most people are award of the Pacific Garbage Patch that exists and grows daily. The plight of the worlds Oceans are only one factor a long line of environmental destruction that is a result of our mass consumption and disposable lifestyle.
I was on The Story of Stuff website today and saw the newest instalment in their campaign The Story of Electronics.
The fact remains that we in North America use way more then our share of resources and create an exceptional amount of garbage per citizen.  Corporations are largely to blame, along with our governments that allow the production of mass amounts of "stuff" with no thoughts as to the end of life requirements of said stuff.
Some governments in Europe and even China are taking steps to force manufacturers to take responsibilty. The fact remains if we didn't buy into the mass consumer culture in the first place we wouldn't have these problems.
We need to make informed decisions when we make purchases.
Fairly traded products and closing the loop from the manufacturing all the way to the disposal of garbage needs to be on the agenda of every consumer, government and corporation in the world.
The problems that exist today are a direct result of our actions. We can change things by making sustainable choices and only buying things that can be disposed of ethically.
Things have to change and it has to start with each  of us.
Who would have thought there would be a day that promotes buying something used!
Well there is and it is tomorrow.
From the  reyouzd website the reasons for buying used helps the planet in many ways;
IT'S SIMPLE!


Used goods require




NO

new agricultural or industrial practices




NO

new manufacturing processes,




NO

new packaging and




NO

transglobal transportation to marketplace.



The three R's of Recycling are REDUCE, REUSE and RECYCLE. The Recycle part is last on the list because it is always greener to reduce the amount we consume and the waste we produce. Reusing is environmentally sustainable and easy.
If you are thinking of making a purchase this weekend try and see if you can buy it second hand. Craigslist is one place I use all the time. Our family has bought numerous items off of CL and continue to use it as an excellent resource for finding many items for a great price!
Smart consumerism dictates that we make purchases with the environment in mind. Buying second hand will help keep valuable items out of the landfill and more money in your pocket. Everyone wins!
When I moved recently I wrote about Frogbox a local Vancouver company that provides reusable shipping containers that are dropped off and picked up in a timely manner. This helps create less waste and offers a green moving alternative. Before you get to the point of packing all of your belongings, there are a few things to consider when choosing a new neighbourhood.
Google maps has made it easy to check out the new place, and see how the neighbourhood compares to your current digs. I have a few other great resources to use as a guide for helping you to choose the greenest community to live in.
I used the walk score software to look up my current address (scored at 67/100)  The verdict on my new place is Somewhat Walkable. This will no doubt improve when the construction on the grocery store at the bottom of my street is finished this fall. We are extremity close to transit, a hospital, coffee shops, cafes and restaurants, some boutiques and a thrift shop. Also nearby are a number of parks, access to the  river and a bike route. Being a car free family, we have found this area great for walkability. This may depend how far you would walk for such things as the library, major grocery store and community centre. For us, a stop or two on the Skytrain or eight minutes on the bus are acceptable travel distances for these resources.
This program maps out your neighbourhood and rates it's walkability. It shows where the closest amenities are in kilometres, giving you an accurate picture of where you will be living and shopping.
Another thing to consider is the air and water quality of the place you are moving to.
Emitter.ca allows you to access statistics about what has been reported to the National Pollutant Release Inventory*. Emitter tells you the name, type of company and a sliding scale rating of the amount of pollution reported to be pumped into the air.  This resource has helped me to understand what these large factories I see in the distance are doing and how harmful the toxins they release may just be.
So if you are thinking of making a move in the near future, check out these sites. They may be a valuable new resource and a sense of pride for communities of the future!