Posts Tagged 'good Karma'
Defend our Coast was a political action that united  thousands of people.  On October 22 2012  people from across Canada gathered at the Victoria Parliament buildings to send a message.
5000 people risked arrest to say NO to the tar sands in Alberta, the pipeline to our coast, and super tankers off our shores.
Here are some pictures I took there that day;
I was down at the the Occupy Vancouver movement  on the lawn of the Vancouver Art Gallery again today. It was a nice day, dry, and my six year old daughter Ava was with me. We made a donation to the food tent, Girl Guide cookies, of which we have an ample supply. We walked around the "tent city" and visited the healing tent and free people's library. Then Ava had to climb the stairs all the way to the lion and sit on the outer most ledge, for the "best view".
We made our way back down to the fountain and someone gave us some side walk chalk. We proceeded to draw stars and flowers and  a hop scotch. Other people joined us and we all decorated some of the concrete there. Lots of people mingled around. Many people were eating, dogs and  poy spinners were there, an especially good roller skater was doing some tricks,  there was music playing. People were arriving and setting up signs and posters. People in business suites where there, people in ripped, dirty camouflage were there.
The place had a feeling about it that was part carnival, part camping comradery, and part exciting platform of change.
That is what is going on at Occupy Vancouver.
What does a movement that will change history look like?  This.  If you accept we are already  living in a new paradigm.  If you have been waiting for a message to arrive there couldn't be a clearer one. People want change. We can't continue to marginalise people and stand by while corporate greed is rewarded.
While I was on the Occupy Vancouver grounds I was approached by a member of the media. A female reporter and her camera man came over and asked me if I would answer some questions. Always happy to give my opinion I agreed.
It turns out the "Santa Clause Parade" which is known as the "Rogers Santa Clause Parade" in Vancouver,  has decided to move the route, instead of strolling down the same street that currently is the domain of the Occupy Movement. I was asked how I personally felt about the route being moved " being this is the biggest fundraiser for the food bank of the year" somehow implying that this movement was impeding the collection of donations? I was also told my presence there was representing the 99%, and I corrected her with the fact that I was only representing my self there.
. The reporter told me some people "would not feel comfortable bringing their children there."   I couldn't think fast enough of all the clever retorts I could come up with over the next few hours. I was able to say  it felt like a safe place to me, I had my child there.  It seemed to me they didn't need to reroute in my opinion. But the implied fact was we couldn't let the families see people and tents in the middle of a cold and damp November day.Apparently  that does not make happy shoppers!?
What is the message?  They are not going away.  All People deserve to be treated equally.  A corporation is not a person, and should not be pandered to by our "elected officials" and others who stand to profit at the expense of our environment,the rights of people, jobs , food security, biodiversity and the list goes on.
What the reporter failed to realise is that the food bank exits for the very people who are out protesting the state of world affairs. The irony that this parade and food collection can not co-exist on the same street as the Occupy Vancouver movement goes to show how narrow minded people still are. It is time to rise up and Occupy some deep thoughts about the kind of world we are creating.
A good use of plastic bottles, using water, bleach and sunlight  people are turning trash into a useful and necessary product – light!
This website gives more details.
Greenpeace was started 40 years ago this week in a living room in Vancouver, BC.
On their website it proudly boasts 40 years of  Inspiring Action, Making Change, Bearing Witness, Solutions, Victories! And this is what I think of when I hear the name as well.
Activists had a simple message in 1971 and it remains vital today; TAKE ACTION! The founders of Greenpeace were regular Canadians. What began as protests against nuclear weapons testing / transporting/ now covers climate change, toxic pollutants, protection of forests, oceans, agriculture, and even PEACE and disarmament.
I am proud to live in the same province where such ideals could evolve into an international movement called Greenpeace.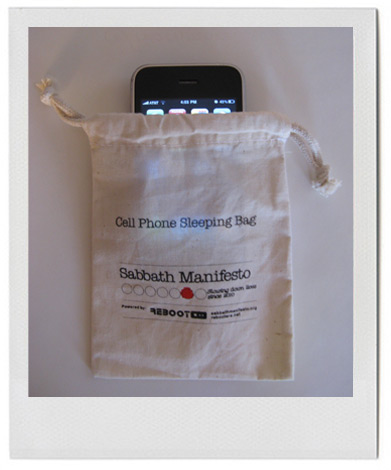 Sabbath Manifesto. Sounds intriguing doesn't it?
Once upon a time people weren't constantly plugged into electronics. There were no personal home computers, cell phones, ipads, tweeting, email or the thousands of other devices and gadgets that today seem like a necessity. In fact many people practised a day of rest, every week!  Before Sunday shopping became commonplace, back in the olden days known as the 1970′s.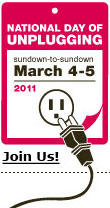 The National Day of Unplugging this year is from sundown Friday March 4th until sundown Saturday March 5th.
A full 24 hours of not using electronics! It has been done! Last year was it's inaugural year, and 2011 seems to be gaining steam.
The site Sabbath Manifesto gives a top ten list of what to do instead of plugging in. Some simple things like drink wine, eat bread, go outside, light candles, connect with loves ones, give back, and of course avoid technology. Along with some other virtuous things like find silence, nurture your health and avoid commerce.
What does unplugging have to do with the environment? Well everything really. When people are connected to nature, volunteer (give back) or practice better heath routines, de-stress and focus on simpler things the benefits will exponentially increase.
Earth Hour encourages people to unplug for one hour of the day. This challenge asks if you can unplug for a full day.  It  will no doubt have a huge effect, not only on our overall electricity use, but on our collective psyche.
Realise the simple necessities in life don't require batteries, connect to an electric outlet or cost us money. These are the priceless treasures to be enjoyed and cherished.