Posts Tagged 'green living'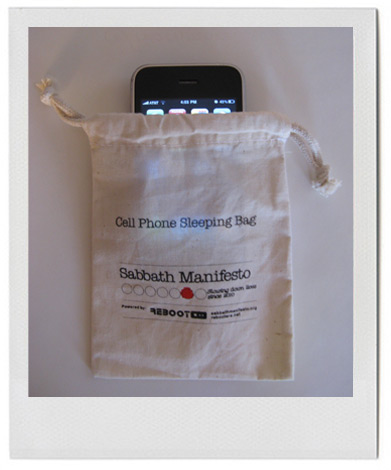 Sabbath Manifesto. Sounds intriguing doesn't it?
Once upon a time people weren't constantly plugged into electronics. There were no personal home computers, cell phones, ipads, tweeting, email or the thousands of other devices and gadgets that today seem like a necessity. In fact many people practised a day of rest, every week!  Before Sunday shopping became commonplace, back in the olden days known as the 1970′s.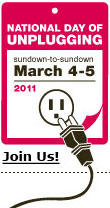 The National Day of Unplugging this year is from sundown Friday March 4th until sundown Saturday March 5th.
A full 24 hours of not using electronics! It has been done! Last year was it's inaugural year, and 2011 seems to be gaining steam.
The site Sabbath Manifesto gives a top ten list of what to do instead of plugging in. Some simple things like drink wine, eat bread, go outside, light candles, connect with loves ones, give back, and of course avoid technology. Along with some other virtuous things like find silence, nurture your health and avoid commerce.
What does unplugging have to do with the environment? Well everything really. When people are connected to nature, volunteer (give back) or practice better heath routines, de-stress and focus on simpler things the benefits will exponentially increase.
Earth Hour encourages people to unplug for one hour of the day. This challenge asks if you can unplug for a full day.  It  will no doubt have a huge effect, not only on our overall electricity use, but on our collective psyche.
Realise the simple necessities in life don't require batteries, connect to an electric outlet or cost us money. These are the priceless treasures to be enjoyed and cherished.
Who would have thought there would be a day that promotes buying something used!
Well there is and it is tomorrow.
From the  reyouzd website the reasons for buying used helps the planet in many ways;
IT'S SIMPLE!


Used goods require




NO

new agricultural or industrial practices




NO

new manufacturing processes,




NO

new packaging and




NO

transglobal transportation to marketplace.



The three R's of Recycling are REDUCE, REUSE and RECYCLE. The Recycle part is last on the list because it is always greener to reduce the amount we consume and the waste we produce. Reusing is environmentally sustainable and easy.
If you are thinking of making a purchase this weekend try and see if you can buy it second hand. Craigslist is one place I use all the time. Our family has bought numerous items off of CL and continue to use it as an excellent resource for finding many items for a great price!
Smart consumerism dictates that we make purchases with the environment in mind. Buying second hand will help keep valuable items out of the landfill and more money in your pocket. Everyone wins!
When I moved recently I wrote about Frogbox a local Vancouver company that provides reusable shipping containers that are dropped off and picked up in a timely manner. This helps create less waste and offers a green moving alternative. Before you get to the point of packing all of your belongings, there are a few things to consider when choosing a new neighbourhood.
Google maps has made it easy to check out the new place, and see how the neighbourhood compares to your current digs. I have a few other great resources to use as a guide for helping you to choose the greenest community to live in.
I used the walk score software to look up my current address (scored at 67/100)  The verdict on my new place is Somewhat Walkable. This will no doubt improve when the construction on the grocery store at the bottom of my street is finished this fall. We are extremity close to transit, a hospital, coffee shops, cafes and restaurants, some boutiques and a thrift shop. Also nearby are a number of parks, access to the  river and a bike route. Being a car free family, we have found this area great for walkability. This may depend how far you would walk for such things as the library, major grocery store and community centre. For us, a stop or two on the Skytrain or eight minutes on the bus are acceptable travel distances for these resources.
This program maps out your neighbourhood and rates it's walkability. It shows where the closest amenities are in kilometres, giving you an accurate picture of where you will be living and shopping.
Another thing to consider is the air and water quality of the place you are moving to.
Emitter.ca allows you to access statistics about what has been reported to the National Pollutant Release Inventory*. Emitter tells you the name, type of company and a sliding scale rating of the amount of pollution reported to be pumped into the air.  This resource has helped me to understand what these large factories I see in the distance are doing and how harmful the toxins they release may just be.
So if you are thinking of making a move in the near future, check out these sites. They may be a valuable new resource and a sense of pride for communities of the future!
This clever sticker was made by a UK company called Hu2 designs.
They offer "sustainable habit reminders" Stickers to place around your light switches.
This is a great idea for homes, schools and workplaces.
They are an online store
Hu2 was also nominated by Treehugger for the 2010 "Best of Green" award for Design and Architecture.
They are official members of the WWF UK and all their stickers are PVC free.
Along with the many great wall stickers are some other fun artistic touches you can add to your home
like this. . .
Many people are turning away from the petroleum based artificial trees that, just a generation ago, seemed like the most environmentally friendly option available.
If you are looking for an Eco Friendly option for a Christmas tree this year I recommend checking out this local company. Evergrow Christmas Tree Company.
Evergrow Christmas Tree Co was started by two UBC forestry grads, and specialise in delivering live trees to people who want a greener option for the holiday season.
I first learned about this option in May when I was volunteering at EPIC, the sustainable living expo held annually in downtown Vancouver.  I was in the "kids zone" as usual, making Christmas decorations with the kids!
Evergrow offers trees for homes, business and events. They even offer cut trees if you desire one bigger then 7 feet. The trees are grown locally and the cut one are collected and converted into biofuel. They will even lend you a tree stand and set it up if you wish. No more needles dropping, worrying about the tree dying up or  what to do with it after the 26th.
If you order online you can save 10%  So shop local, save a tree, and go really  green this Christmas!
If You Wanna Make The World
A Better Place
Take A Look At Yourself, And
Then Make A Change
Man in the mirror – Michael Jackson
This Friday, November 26th, the day after American Thanksgiving, is commonly refereed to as Black Friday. In the United States it is the biggest shopping day of the year!  It is also known as BUY NOTHING DAY,  internationally its on November 27th.
The reason for this day is simple, to make people question their consumption.
We live in a time of such abundance never before witnessed in modern history. Our ever increasing appetite for the newest gadget, most convenient meal, and more of everything, has contributed to an ever larger toll on planet earth.
As we approach another holiday season, let us hope that we can share it with people we love. Spend time doing things that bring us joy and marvel at the miracles that are around us everyday.  We live in an enchanting time, if we just take a break from trying to achieve something, get somewhere, or  buy something else,  we can just relax and let it be.
I saw the above picture today on facebook and had to add it to this post! Amazing!
3000 students and teachers at the Ryan International School in New Delhi ask world leaders to not ignore the "elephant in the room" — climate change.
The team at 350.org have inspired  people around the world to create art that is visible from space.
This picture is only the latest in a series of large art instillation's that have been developed around the world to draw attention to the issues of climate change.
This photo was the most recent example of the 350 EARTH event in Santo Domingo in the Dominican Republic. It's the image of a person standing on the roof of their house as waves threaten to submerge it. This is the view from 300 miles above the earth.
As another  UN Climate talk is set to  begin next week in Cancun, the  message to global leaders is  that the time to act on climate change is now. We do not have time to waste!
You can see more pictures here
The ZERO emissions race is on!
Teams from Australia, South Korea, Germany and Switzerland have gathered for an eighty day, transcontinental race.  All the vehicles are powered by clean renewable energies, solar and wind being the most popular.
Each participating team will have the equivalent power produced and fed into the grid of their home country.
Louis Palmer, was the first man to circumnavigate the world with solar power in 2008.  This August, five teams will expand beyond this accomplishment with a race towards sustainability.
The Eligibility Criteria of the competing vehicle in the Zero Race are:
competitors must be propelled by an electric motor
drive at least 250 km distance at an average speed at or above 80 km/h
be able to reach a maximum distance of 500 km per day, with a recharge stop of 4 hours during Lunch time
carry at least two passengers
You can follow the race on their blog or website
Protecting Biodiversity

In addition to the amazing oppertunity to showcase  alternative energy powered propultion, the race is  set to raise awareness for the United nations International Year of Biodiversity. Each car bears the logo of an endangered species, and  contends the alternative power is a tangible solution to protect the environment.

They will be stopping in Vancouver in a few weeks!
When I was a kid growing up near the great lakes in Ontario, the topic of water conservation, water pollution, and acid rain where taught in school. A child of the seventies, and eighties by the time I was in school, the environmental era had taken hold in the mainstream. I can clearly remember the posters we made and hung in the school halls about all the issues surrounding water. Even then I was aware water was something of great value. I remember watching television and being horrified by the plight of people a world away in Africa dying because they didn't have water. Live Aid, Band Aid and the likes were played on the radio and T.V, like an anthem to my generation. We are the world – We are the children -
Fast forward to my twenties; I made the pilgrimage from central Canada to the West Coast. I started spending time up at my father's vacation property, miles away from any town, deep in the mountains surrounded by Ponderosa pines, wild streams, and rugged beauty. It was here I first learned the true value of water.
Years ago at my father's property there was no well dug yet. We trucked in all the water we would consume ourselves. Lucky to have a stream at the very edge of his acreage, we would hike down to it for water to boil to wash dishes. This gave me some small insight into what it means to have water at the tap; the convenience I had taken for granted for twenty years was never more clear to me then.
If you have never been lucky enough to experience camping in the wild, it may be hard to comprehend my experience. Here in north America we have an abundance of water, in Canada particularly, with the most fresh water in the world, it can be hard for the average city dweller to relate to a lack of water.
Today there is World Water Day - World Ocean day, and World Rivers Day to remind us of the issues and very real threats that our water supply faces. You don't have to look far, watering restrictions, water contamination, and bottled water are all hot topics for the blogisphere and beyond. When the statistic I read in the April 2010 National Geographic related that EVERY YEAR, U.S. SWIMMING POOLS LOSE 150 BILLION GALLONS OF WATER TO EVAPORATION, one has to wonder if everyone has forgotten the value of water.
After heavy irrigation some progress has been made the world over to improve the availability of water for drinking and farming. There are still millions of people around the world who do not have access to clean water or proper sanitation. The divergence of this water has caused many problems as well, damming natural streams, piping water, sometimes miles into dense cities is not effective, the longest water tunnel supplying New York City at 85 miles, loses 35 million gallons of water a day, we can not say this is effective.
In California irrigation enables farmers to grow half of all the fruit, vegetables and nuts in the United States, while at the same time creating a dust bowl where fresh water used to flow.
Water Aid is an organisation that's focus is to improve access to fresh water and sanitation for the poorest nations on earth. Still there are people, usually woman and girls, who spend hours a day fetching water, usually contaminated , just to survive.
An article in the April  2010 National Geographic is appropriately named The Burden of Thirst. When writing about water in Africa one quote states " Villagers think of water as a gift from God. But someone has to pay for it. Although water springs from the earth, pipes and pumps, alas do not. And water is most expensive to provide for those least able to afford it."
The reality in poor nations, and the world over is the same; "When clean water becomes plentiful, all the hours previously spent hauling water can be used to grow more food, raise more animals or even start income-producing businesses."
The United Nations has stated that access to clean water is a human right. Our bodies are made up of 60% water, it is the most valuable element on earth. Water conservation and stewardship is one place to start.
This graph from the Environment Canada website is telling;

There are many things we can do to improve on this statistic. From using more effective shower heads,  tap aerators and modern toilets, even water displacement in toilets can save huge amounts of water. Rain water collections, reusing grey water – watering plants with dish water for example.  Watering by hand instead of using a sprinkler;  take short showers, keep water in the refrigerator instead of letting it run to get cold. All these measures can make a difference.
One thing everyone can do is inform themselves about the issues and make better choices to conserve and become better stewards of the water.
Here more tips on wise water use
Thousands have lived without love, but not one has lived without water. — W.H. Auden