Posts Tagged 'The story of Stuff'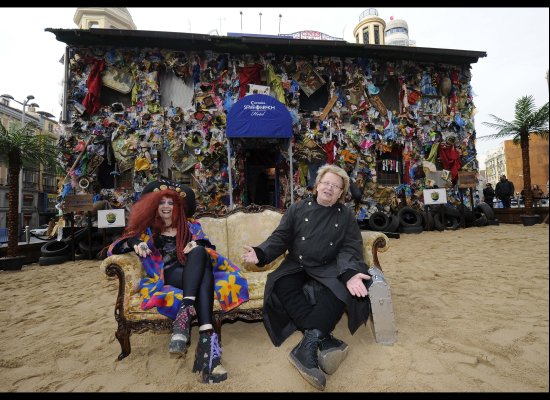 While reading the news this week, I came across an article on Madrid's Beach Garbage Hotel
The hotel is made of garbage found on beaches around the world. It was created by artist Ha Schult, in an attempt to raise awareness about the state of the Oceans, the garbage that is dumped into the Oceans of the World and garbage that washes ashore on every beach across the planet.
Schult speaks about it " "I created the Beach Garbage Hotel because the oceans of our planet are the biggest garbage dump,"
Most people are award of the Pacific Garbage Patch that exists and grows daily. The plight of the worlds Oceans are only one factor a long line of environmental destruction that is a result of our mass consumption and disposable lifestyle.
I was on The Story of Stuff website today and saw the newest instalment in their campaign The Story of Electronics.
The fact remains that we in North America use way more then our share of resources and create an exceptional amount of garbage per citizen.  Corporations are largely to blame, along with our governments that allow the production of mass amounts of "stuff" with no thoughts as to the end of life requirements of said stuff.
Some governments in Europe and even China are taking steps to force manufacturers to take responsibilty. The fact remains if we didn't buy into the mass consumer culture in the first place we wouldn't have these problems.
We need to make informed decisions when we make purchases.
Fairly traded products and closing the loop from the manufacturing all the way to the disposal of garbage needs to be on the agenda of every consumer, government and corporation in the world.
The problems that exist today are a direct result of our actions. We can change things by making sustainable choices and only buying things that can be disposed of ethically.
Things have to change and it has to start with each  of us.